34 📍 Pins on a Map for my 34th Birthday
Update #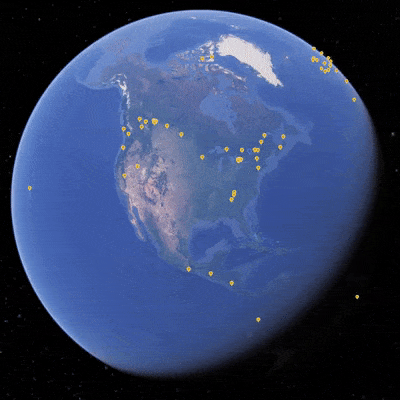 A floating globe with 93 pins spread across the globe.
Thank you for sending me the gift of a pin and a story for my birthday! I am amazed at the diversity of locations, sentiments, and anecdotes. I hoped to receive 34 pins. In total, I received 93 😮 (and two promissory notes).
I love how certain places on the planet mean so much to so many different people. Living through these moments and memories was such a gift this year, thank you!
While I won't describe or share every pin, here are some highlights that stood out:
Most folks sent a single pin, most also sent some details on why the place was special.
Some sent 2 points, one person submitted 8 places — wanderluster!
Some didn't even share a single place, but shared a memory of a place long forgotten or random moment.
Some shared happy memories and some shared sad memories.
Some shared eulogies and some shared places that they have said goodbye to; never to go back again.
Some sent pins of places that they escaped to. Some places were places they escaped from.
Some were places "that no one else is likely to mention … " and others were the most popular places on the planet.
Some were countries, some were cities, some were intersections of roads or rivers or railroad tracks.
Some sent pins of places that are halfway in between me and them, and others from where we last spent time together.
I received places where people become the people they are, or they left their old selves behind and places that people lived and places people longed for.
I received places they spent most of their lives and some sent pins of places that they have never been.
Some sent places where they said goodbye to someone they would never see again, or said hello to someone that they would spend the rest of their lives with.
I received several pin-hunts (sequences of clues for me to follow to find the pin, I loved these).
I also received pins in the post, over the phone, text message, in audio, video and email. Some even sent theirs over Twitter.
One thing that I love is how these pins started to cluster (two folks actually sent me to the same place, for wildly different reasons). These clusters spatially arranged people in my life that I would never have expected to be connected. But they are, through geography, and in a very disconnected way, through me.
I added many beautiful places to my bucket list. Thank you again, and here's to next year!
Background #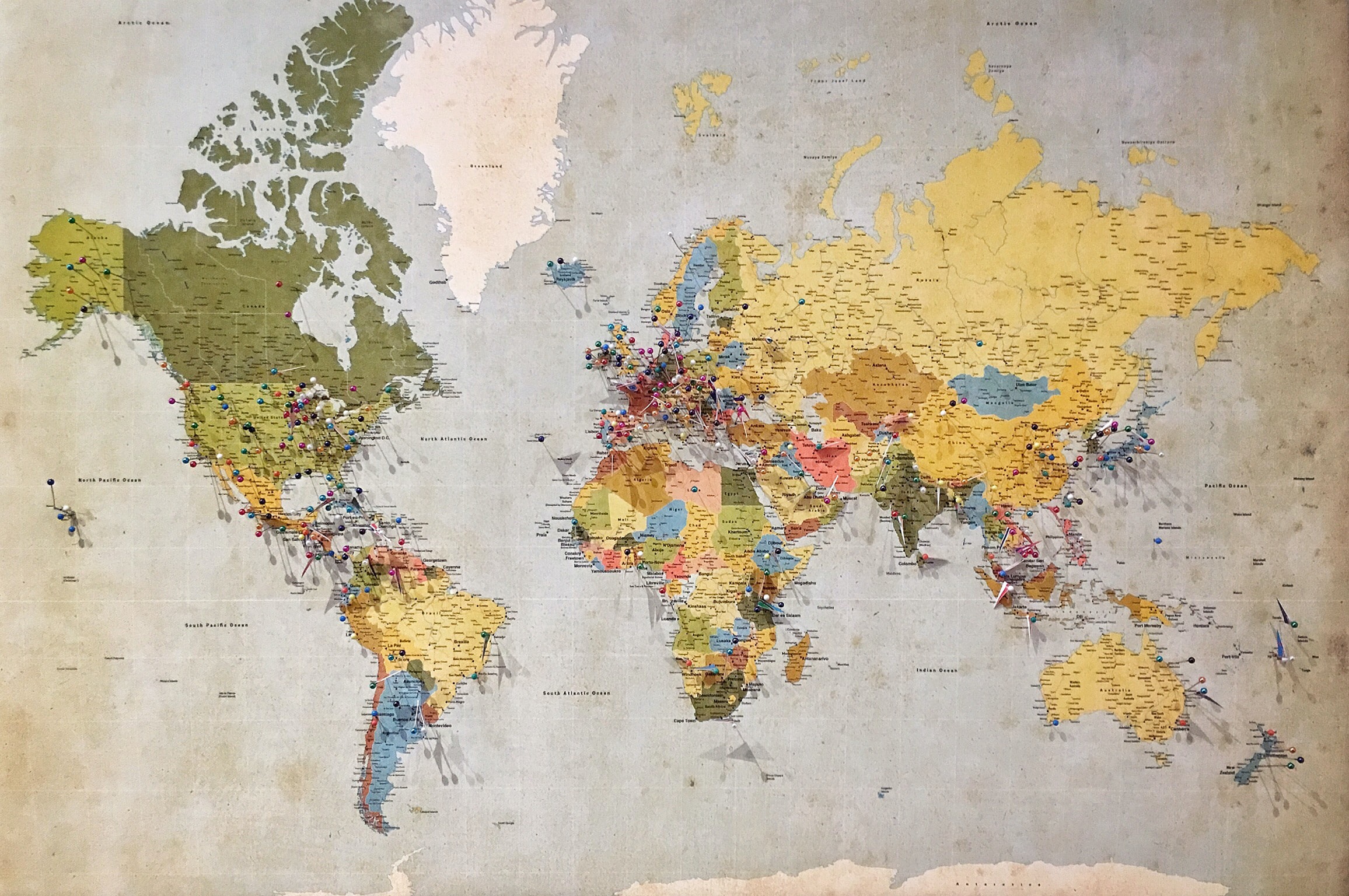 Pins on a Map.
This week, I turn 34. I have been thinking deeply about my 2021 theme of cause and effect. Every year I define a thematic resolution. It is through this lens that I look at events of the year.
It is through our actions that we change (or at least attempt to change) our world. Causation is the invisible link between one event and another. We try to understand causal links. We try to predict what will happen if we take one action or another.
Often, moments when we remember our choices most saliently happen in special locations. With our brains full of grid cells and place cells, we connect memories to spaces both physical and geographic.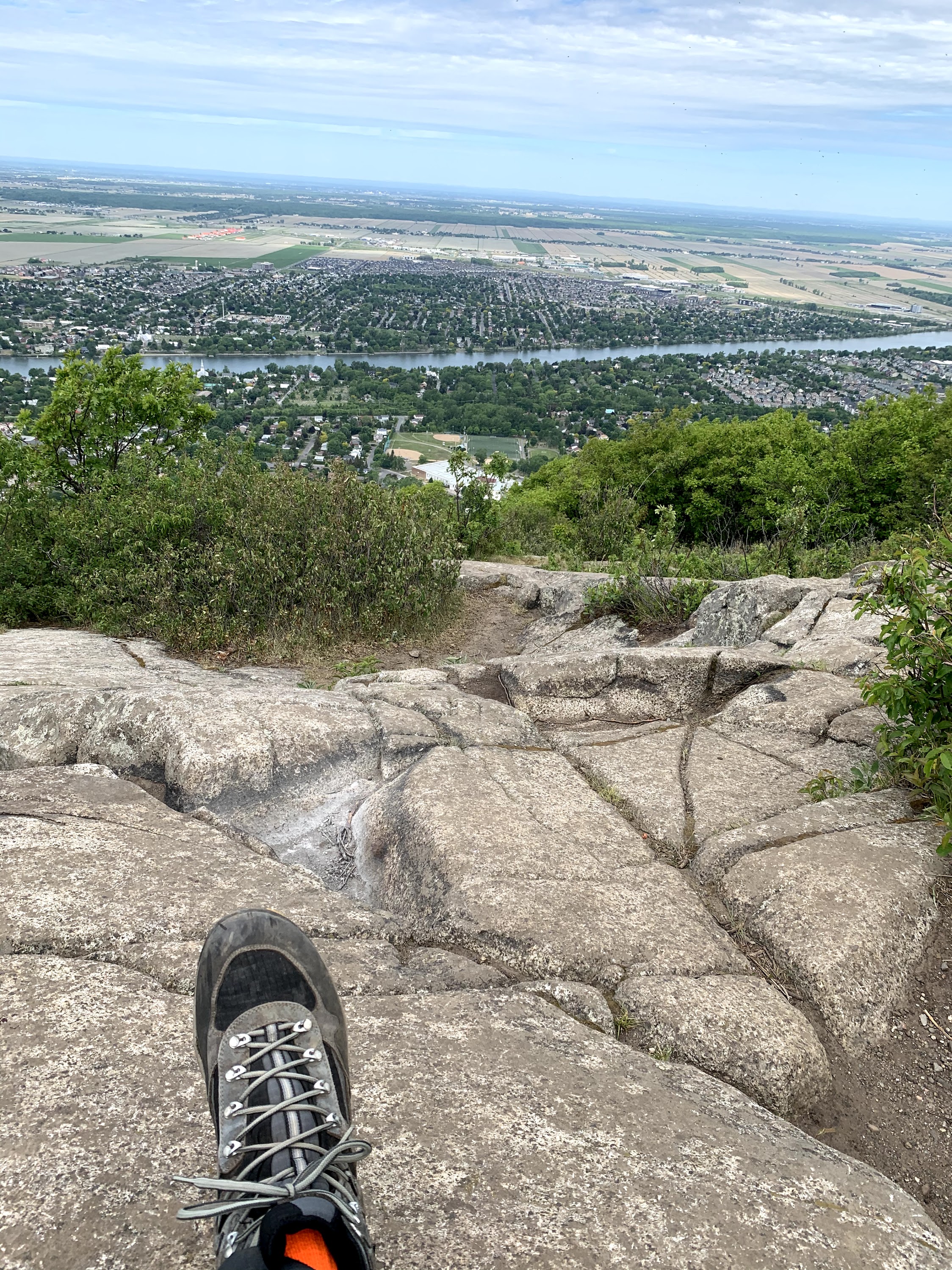 Mont-Saint-Hilaire to the Gault Nature Reserve.
So, as I recently walked on the well worn paths around Mont-Saint-Hilaire to the Gault Nature Reserve, I reflected on many of my special locations past. This reflection leads me to my request for my 34th birthday.
What causes you to remember a place?
For my 34th birthday (June 5th), please share a 📍 pin on a map marking a special location in the world.
Submission #
Please send me a description of a special location and describe what causes you to remember the place. I'd love to collect all of these 📍 on a 🗺️.
You can email the location to me privately, or post it up online and send me the link on Twitter.
There are so many places that might spark to mind when you read this request. It might be a specific beach, a tall building, a vast landscape in a distant country. I am so curious and excited to live vicariously by exploring these various locations and the memories they conjure.
If you are thinking to yourself: "What is the difference between longitude and latitude?Latitude sounds like ladder, ladder-tude, and ladders rungs are horizontal… so, now you won't forget that. Or, how the heck do I send Kory a pin on a map?" Reach out and I would be happy to walk you through it with a little hands-on interactive tutorial.
Here are some short instructions that might help:
On your computer, open Google Maps.
Search for the place you want to share.
Select the share icon (see the example over there ➡️).
Copy and paste the link to the 📍 and send it to me!
Here is an example of a pin on a map marking the Larch Valley in Sentinal Pass near Banff, Alberta where Lana and I perfected the art-sport of downhill climbing.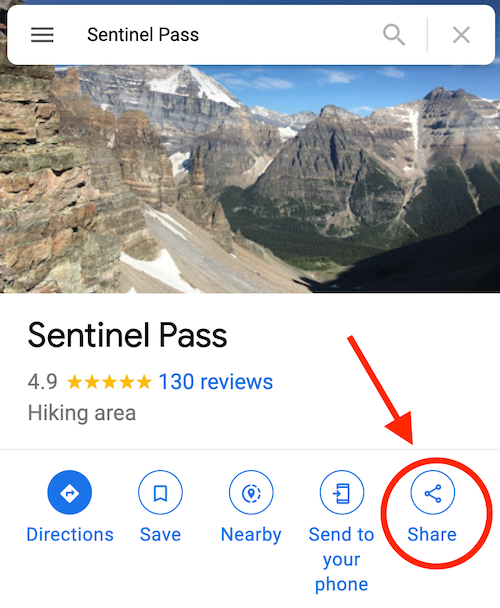 Previous Birthdays #
As with each year prior, the goal is to collect one for every year I have lived, this year that would be 34. Over the past years I have asked for some interesting collective creation gifts for my birthday:
32 Paths (trails, hikes, directions to travel from basecamp)
31 Recipes You Make (ask me if you'd like to see some)
26 Love Letters