BLAFF: When the script runs out, the improv begins!
Imagine you are an actor, it's opening night, and you just received a standing ovation at the end of Act 1. You proudly head into the intermission. When you return to the stage for Act 2, you see your scene partner move toward you. You hear them say … something! It's your cue, and you freeze. Suddenly, you don't know what to say. You forgot your lines.
What? How did that happen? You have no idea what you're supposed to do. It seems like everyone else knows exactly what to say and where to go. Panic ensues. You're the only one in this predicament as you stumble around other flawless actors trying not to embarrass yourself. If only you could get to the end of the show, maybe no one will notice? Please, let this nightmare end!
But what if this time, it's not a nightmare? What if it's on purpose?
The pyramid of Gustav Freytag, similar to the one in Die Technik des Dramas (1863).
Theatre is constantly evolving. For centuries, much of Western theatrical storytelling adhered to a typical Aristotelian plot structure, or Freytag's five act dramatic structure. Our earliest traditions retold well-known mythology and entertained audiences with tales of powerful and persnickety spirits, gods, and goddesses whose drama was somehow relatable. The hero's journey, in brief, proceeds as follows: our hero gets the call to adventure, finds a guide to assist them, tries/fails/tries again, and eventually returns home a changed person. Ta-da! The end.
Theater has since dissected this structure, picked apart the script, mixed up the order, and put it all back together again. The flashback, the side story, the "unexpected" hero. New works have attempted to delve into the dark recesses of the human brain and explain the inner workings of a psychological breakdown. Take for instance Sara Kane's 4.48 Psychosis, it has no explicit characters or stage directions. Absurdist theater plays with script and story even further, abandoning things we take for granted like plot and dialogue. There are many pieces that straddle the line between theater, dance, and performance art. These works play with form in a way that's striking, new, and sometimes unsettling!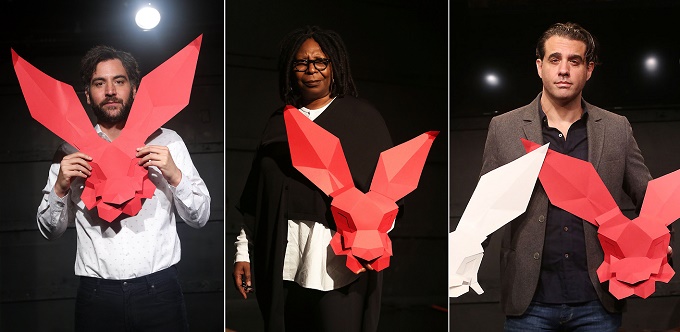 Josh Radnor, Whoopi Goldberg & Bobby Cannavale are some of the stars who have performed White Rabbit, Red Rabbit. 2016 Bruce Glikas. KenyaBuzz
But, back to our nightmare. You are onstage opening night, and headed into Act 2 feeling like you've never seen the script and haven't had a single rehearsal. For plays like White Rabbit, Red Rabbit, that's no nightmare, it's simply how it works. "White Rabbit, Red Rabbit is an absurdist adventure which sits on the boundary of comedy and drama. As Gate theatre artistic director Chris Haydon describes: 'The spontaneity of an actor reading a script for the first time and discovering it with the audience gives complete authority and power to the writer's voice, and the way that voices control people is an intrinsic theme in the play" (The Guardian).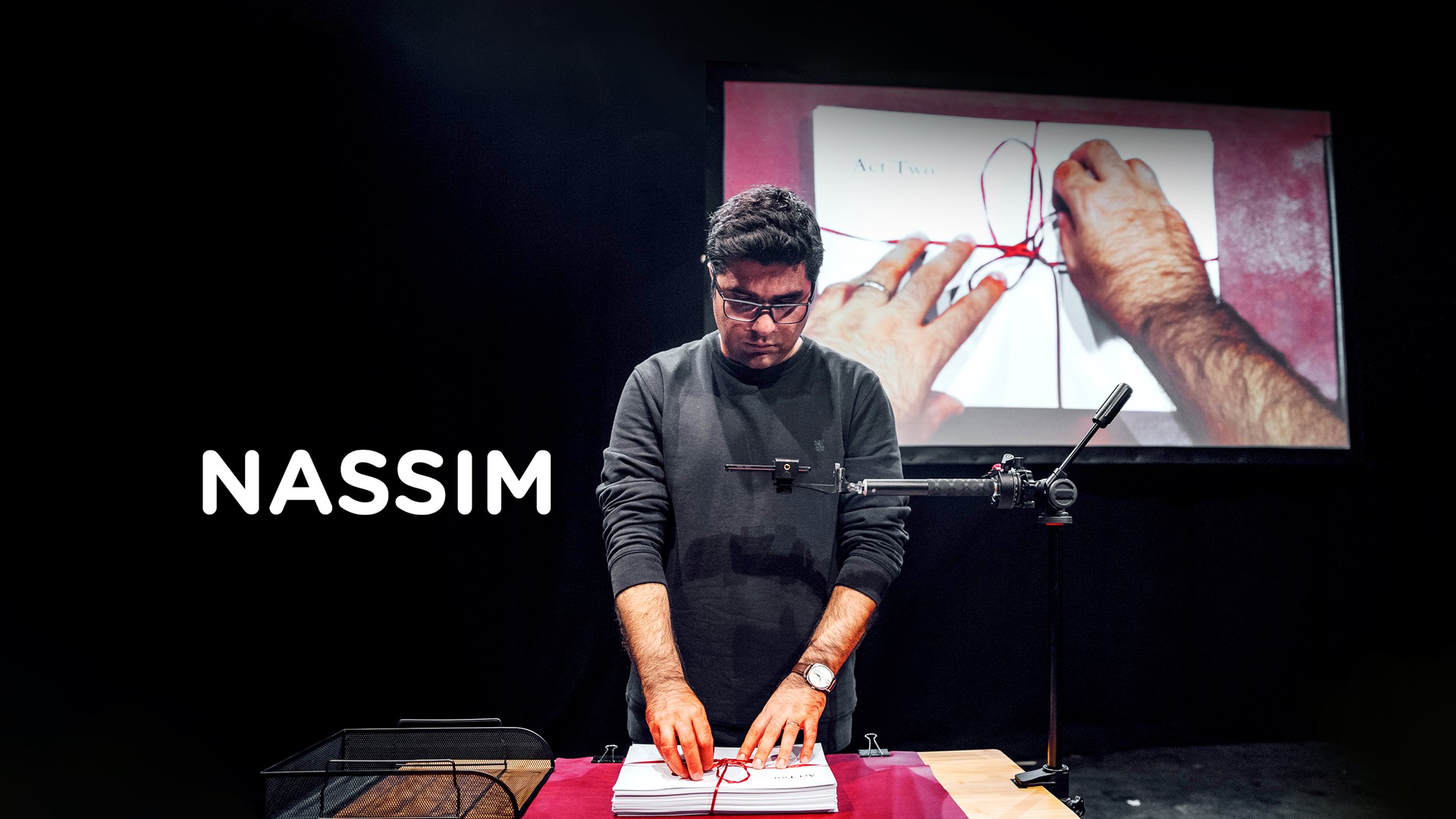 NASSIM from Playwright Nassim Soleimanpour.
Quickly gaining popularity after its debut in 2011, by 2019 White Rabbit Red Rabbit had "been translated into over 25 different languages and performed over 1,000 times by names including Stephen Fry, Ken Loach, and Whoopi Goldberg" (Citadel Theatre). A few years after his initial success, Souleimanpour created NASSIM, another "audacious, new theatrical experiment. Each night, a different performer joins the playwright on stage, while the script waits unseen in a sealed box." NASSIM is "touchingly autobiographical yet powerfully universal, NASSIM is a striking theatrical demonstration of how language can both divide and unite us" (Citadel Theatre). Souleimanpour invited a different, brilliant actor every night to join him in the performance, including the brilliant Canadian actor, playwright, and improviser Belinda Cornish. In the traditional theatre world, the concept of having no script and no rehearsal is terrifying, nightmarish, and anxiety-inducing, to say the least.
But, there is a group of performers who are quite familiar with the no-script experience: improvisers.
Improvisational theatre is created and performed in the same exact moment. Improvisational theater has long eschewed the use of a script, preferring to let things grow naturally following a set of guidelines that keep things moving forward in increasingly interesting, and often hilarious, ways.
And yet, as theater evolves away from a script, some improvisation companies have experimented with the use of scripts, at least partially.
Blaff (2002-, sometimes spelled Blaugh, BLAFF, blaugh!, BLAHGH!) is a show where a guest writer writes the first pages of a play which is kept secret from the improvisers and staged live. After the pages run out, the rest is improvised! (Improv.ca)
What's most is the unlikely collaboration between playwrights and improvisors. These are two groups in the theater world who seldom interact. Its origins are, like many artistic creations, remembered fondly.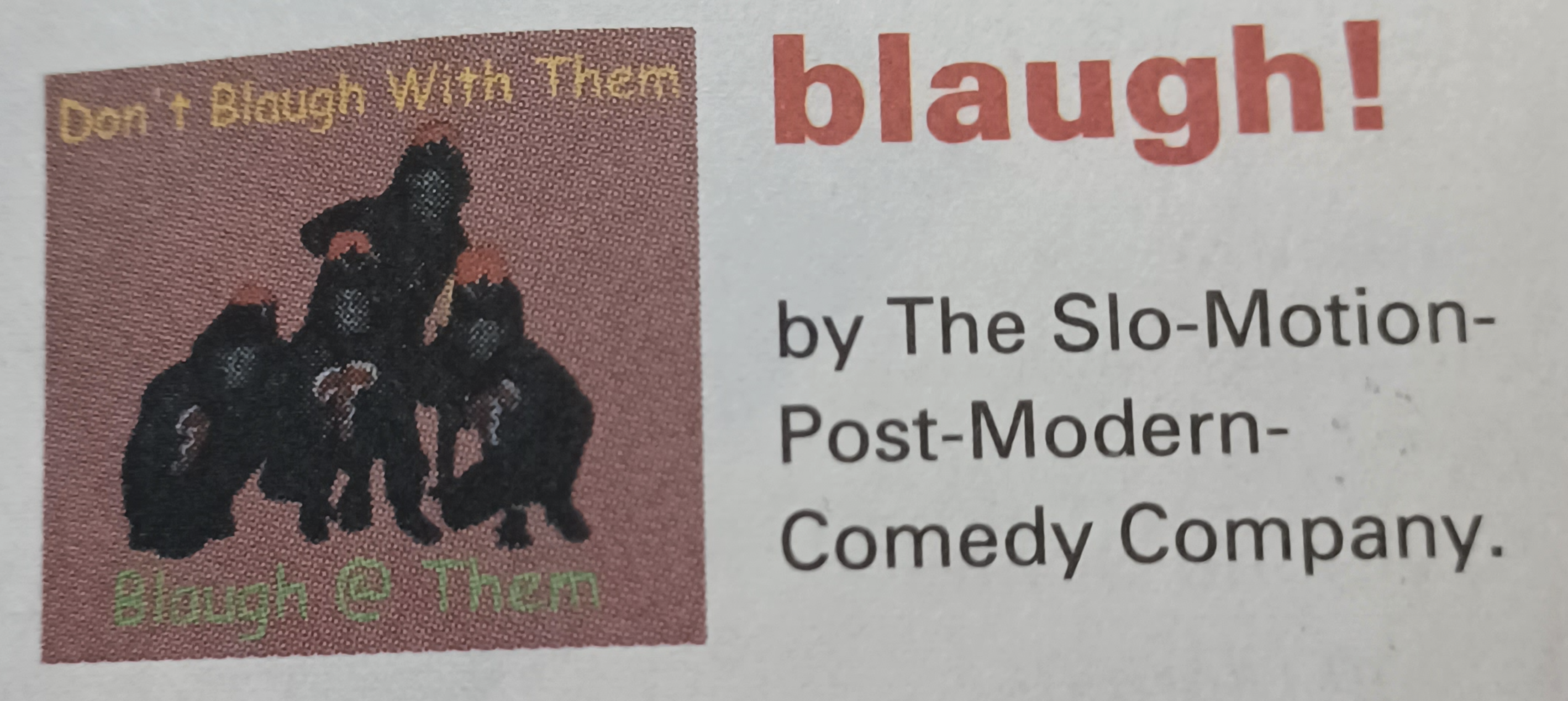 2003 NextFest Festival program entry for blaugh!
Steve Pirot, who was the NextFest Festival Director at the time, provided indelible historical archives from the 2002 and 2003 festival programs. blaugh! was produced in Edmonton, Alberta, Canada in 2002 and 2003, and the tagline from the 2002 program seems to be the source of the name (see image in margin). The program entry describes the show:
Blahgh, a script-improv original format concocted by a team of local crazies. You will see the actrons (sic) open their scripts onstage for the first time and watch as they fluidly flow from the texts in their hands to an improvised whirlpool of creation and confusion. Against all reason and sanity they will weave an epic tale, ending in a powerful and bizarre climax. Every night: a new script, a new setting, and a whole frenzy of new characters. And it will BLAHGH! Cast: Belinda Cornish, Ian Rowe, Jana O'Connor, Kevin Gillese, Bill Minsky
Steve pointed to, of all people, Belinda Cornish, who devised the show for Rapid Fire Theatre performers at the 2002 and 2003 NextFest festivals under the ephemeral production company: The Slo-Motion-Post-Modern-Comedy Company.
Belinda Cornish recalls, "Blaugh was created by Minsky, me, Ian Rowe, and Jana O'Connor…The way we did it was thus: we would take a line from a novel (we had a hilariously elaborate process for picking it which I now can't remember) and use that as the first line for a brand-new script, written by one of us."
As Ian Rowe remembers, "the process [for picking the random line from the novel] was something like each person contributed either a letter or a number. We then used the 2 provided letters to figure out an author and the 2 numbers to choose a page/chapter, starting place in the novel… We were very dedicated to the randomness I suppose."
Cornish continues, "whoever was writing would write the first four or five pages of a play (usually including very specific characterizations and stage directions) then bring them to the theatre in sealed envelopes which were opened by the cast on stage right before they start to perform it. After the script runs out, the cast throws away the pages and, yes, improvises the rest. It's a really fun format. And always worked best when the last written line was some colossal offer."
Rowe, yes-and-extraordinaire, agrees, "the form is part of the entertainment, so yes the danger of getting rid of the scripts, but also the theatricality Belinda talks about in how the scripts are uncovered. We used to start with each person reading a character description to themselves and the audience so the audience watched us learn who we were."
And, just as a single scientific discovery can be made more or less simultaneously by multiple inventors, it seems that something was brewing on in United States around the same time.
In 2004, according to the original creator Stephen Ruddy) one of the most well-known improv troupes, Upright Citizens Brigade, created a show specifically to explore the tension between scripted and unscripted performance, putting the Actor's NightmareThere is a short-form improv game called Actor's Nightmare (Playbook, Don't Mess with Textus) where one player reads lines from paper with others justifying. Some use lines from an audience member's text message history. front and center.
"It could happen! That's the cockeyed promise of Gravid Water, a monthly show at the Upright Citizens Brigade Theater that puts trained actors and skilled improvisers into scenes together. The actors are handed copies of the script in advance and the improvisers aren't. Then they're shoved onstage together and have to muddle through as much dialogue as they can before the lights go down" (NYTimes, 2018).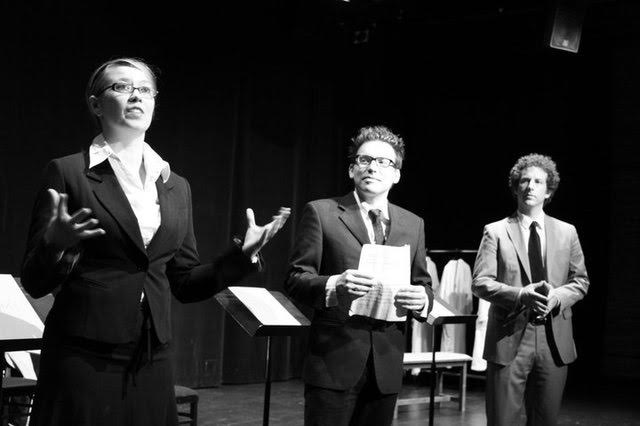 National Theatre of the World performing in The Script Tease Project, c. 2012.
In 2011/2012, the National Theatre of the World (Naomi Snieckus, Ron Pederson, and Matt Baram) created and produced The Script Tease Project. As Snieckus describes "we approach 10 prominent playwrights and ask them to send us the first two pages of a script. They get sealed in an envelope. That envelope is handed to the three of us on stage. We read it cold, for the first time, in front of the audience and then we improvise a whole play on what we think happens after those pages. (The Toronto Star, 2012).
The playwrights were in on the fun, of course. The enlisted script creators described that it was their duty "to tease the actors with a solid beginning, high stakes and a cliffhanger, then leave it up to them to work their magic." Play-write Sky Gilbert believed "[the script] should allow for limitless and hopefully scary possibilities," and Play-write Michael Healey believes that "[the script] should go far enough that the three actors have to find their own way home. Using some truly horrible route." (The Toronto Star)
As Pederson recalls, "we asked established playwrights to write us 2 pages of a play and a separate description of what the set should like and what the three of us should wear. Our stage manager prepared the set on stage before each performance and we walked out to 3 envelopes in spotlights, in our costumes. We opened the envelopes in front of the audience and read the first 3 pages cold, the lights went out and when they came up the three of us finished the play through improv. Playwrights included Scott Thompson, Judith Thompson, Brad Fraser, Hannah Moscovitch and Tony winner John Patrick Shanley. We produced runs at Theatre Passé Murille I Toronto and at Soulpepper."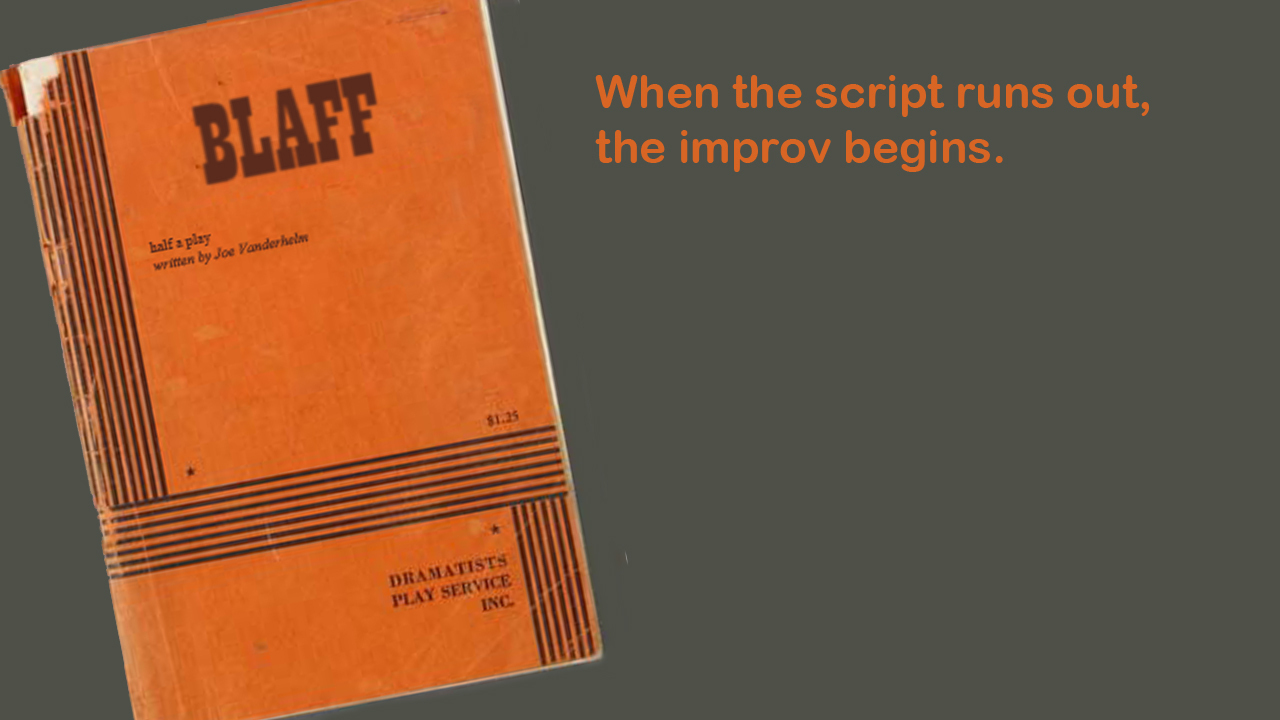 Poster from Rapid Fire Theatre's 2013/2014 production of Blaff.
Over the years, this original format continues to evolve, inviting guest writers to participate, and adjusting parameters based on feedback from performers. In particular, stage directions a performer has never read before can be a challenge. One performer remembers, "when I've played it, I have struggled when there have been lengthy stage directions. It sometimes results in the actors standing around and reading with not much happening. This could maybe be solved by making the stage directions short & punchy. For example: 'Matt runs on stage, soaking wet'."
50/50 at [Montreal Improv Theatre.](https://www.facebook.com/events/impro-montr%C3%A9al-montreal-improv/5050-at-montreal-improv-theatre/225566044459122/)
In 2015, Montreal Improv debuted their show 50/50. "50/50 is live comedy show…In each of the show's eight scenes, one performer who has memorized lines from a unique play will be paired with an improviser who has no prior knowledge of what the actor has rehearsed (nor will they know who they are to be paired with beforehand). The results are a collage of exciting, compelling and hilarious scenes and one very satisfying (and unique) evening of theatre" (50/50 Live).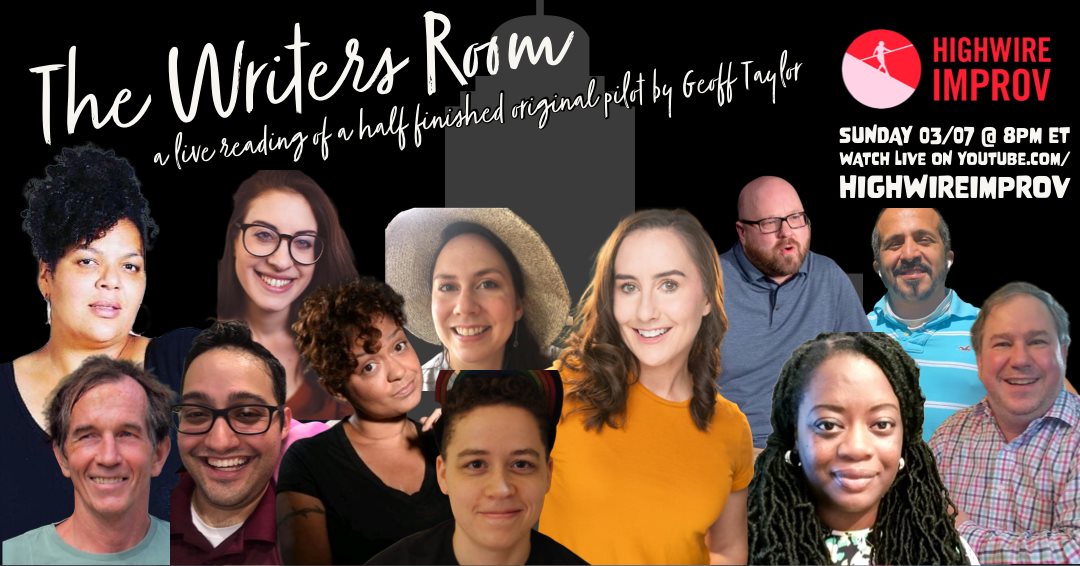 Poster from Highwire Improv's 2021 production of The Writer's Room from Facebook
This concept has even withstood the COVID-19 pandemic, showing up in virtual comedy offerings in 2021 that have been keeping performers inspired. Writers and improvisers are teaming up to help each other out at Highwire Improv with an online event called The Writers' Room. "In this part scripted, part improvised show, writers bring their half-finished scripts to be read and performed by a rotating team of improvisers. When the script runs out, the improvisors do what they do best, and find their way to the end of the show!" (The Writers' Room).
This simple format—script-then-improv—takes the actors' nightmare and devise a new ending. In this was, BLAFF is perhaps a subconcious homage to the surrealist art movement's method of 'cadavre exquis', popular during the 1920's and 30's. In the 'exquisite corpse', players write or draw in turn, with only the most recent context as inspiration. They trust the collective to seamlessly and subconsciously create together. In the same way, in BLAFF, parts of the show are yours… until they are no longer.
So, the next time you're sweating and panicking because you haven't learned your lines, remind yourself that quality theater is created this way every day. No rehearsal? Unfinished script? Improvise, and break a leg!